PROGRAMMES
CANTO ARPEGGIATO
Girolamo Kapsberger & Bellerofonte Castaldi
"Oder der Moment, in dem der 28-jährige Theorbist und Barock-Gitarrist Ricardo Leitão Pedro anfing zu singen, während er spielte, und man plötzlich zu verstehen glaubte, warum Kapsbergers, Castaldis, Giovanni Stefanis Lieder ganz genau so klingen müssen wie in genau diesem Moment in dieser kleinen Kirche: Als ginge es hier und jetzt ganz konkret darum, die Liebe dieser einen einzigen angebeteten Frau zu gewinnen. Existenziell. Nicht mehr und nicht weniger."
Niusic: https://www.niusic.de/artikel/marvao-festival-musica
The seventeenth-century in Italy began in the light of a new musical impetus that would influence the rest of Europe quick and inevitably.
Some consider that the flemish Cipriano de Rore was the first to introduce what would come to be known as
seconda pratica
in his compositions: a bolder and more expressive treatment of the harmony, as opposed to the more rigid counterpoint of the past, together with a new and great importance given to the text. In the words of the great Claudio Monteverdi, now "the word has become the sovereign of the harmony, rather than the servant".
Around the 1580's, a group of personalities consisting of the intellectual and artistic elite of the time gathered in Florence around Count Bari, founding the famous
Camerata Fiorentina
, where composers such as Giulio Caccini and Jacopo Peri aimed to revive the lost art of declamatory singing of the ancient Greeks.
Thus a new style was born, middle-way between singing and reciting, the
recitar cantando
of Emilio de Cavalieri, typically accompanied to a string instrument such as the lute, the theorbo, the harp or the lira da braccio. Singers often accompanied themselves in more or less improvised manner (Caccini was famous for his ivory lute), as this was the most flexible and effective means to express the text and move the listener "
à diuversi affetti" ,
but also because of the symbolic association with the semi-god Orpheus and his lyre, capable of moving every creature to tears with his singing.
It was under this context and inspired by these musicians' novelties that the generation of Kapsberger and Castaldi was born.
Bellerofonte Castaldi was what one would call a true free spirit.
Born around 1580 to a noble and wealthy family in Collegara, near Modena, he was able to lead a comfortable and adventurous life without monetary issues with a generous income from the family propriety. Thus, in his own words, he sang and played for his own pleasure, travelled abundantly, lived in several different cities and never associated himself to a court or particular patron as it would be costume and essential to most artists at the time.
Throughout his frequent stays in Rome, Castaldi got to know the famous Girolamo Frescobaldi as well as Kapsberger of course, whom he complimented generously and rendered homage with his own version of 'arpeggio' piece in response to the famous toccata by the
nobile alemano
which opens this concert. After a fire that destroyed the family propriety, Castaldi died in misery in his hometown Modena the 27th September of 1649.
Giovanni Girolamo Kapsberger (or Johann Hieronymus in his mother language), also known as
Il tedesco della tiorba
and
il nobile alemano
by his contemporaries, was probably the most famous theorbist that ever lived. Son to the German colonel Guglielmo Kapsberger from the Imperial House of Austria, he was probably born around 1580 (just like Castaldi), possibly in Venice, where his father was stationed at the time.
Already in Rome little after 1605, his reputation of gifted composer and theorbo virtuoso allowed him to access the protection and support of important families such as the Bentivoglio and the Barberini. The gatherings hosted by Kapsberger at his house were described as one of Rome's wonders. At the service of cardinal Francesco Barberini most of his life, he worked at the eminently musical environment of the papal chapel side by side with composers such as Girolamo Frescobaldi, Luigi Rossi, Domenico Mazzocchi or Stefano Landi and collaborating with poets like Ottavio Tronsarelli, Giovanni Ciampoli and Giulio Rospigliosi (the pope to-be Clement IX).
Allegedly self-righteous, opportunistic and non-cooperative, his character didn't stop him from having his masses sung at the Cappella Sistina at the request of the pope in 1626 and 1627 and his oeuvre from consisting in the largest contribution to the establishment of the theorbo as a soloist instrument. Kapsberger was also famous for his books of
villanelle
, lighter songs of popular inspiration, as well as his two books of
arie
passegiate
(that is, songs with virtuosic written ornamentations for the singer to display), both genres present in this concert's programme.
Several of his songs for one and more voices exhibit together with the vocal lines the so-called
alfabeto
, a notation in single letters symbolizing the chords to be strung at the guitar in a simple accompaniment fashion (often by the singer himself) as it was fashion in Italian and Iberian circles of nobility and bourgeoisie at the turn of seventeenth-century.
A man of many talents, Kapsberger also wrote books of music for the lute and composed several pieces of larger dimensions for the stage, of which unfortunately only the jesuit opera
Apotheosis
survives.
Ricardo Leitão Pedro
Voice, Theorbo and Baroque Guitar
Basel / Porto,
September 2017
WAILING MUSE

Songs and Fantasies
John Dowland's "A Pilgrimes Solace" (1612)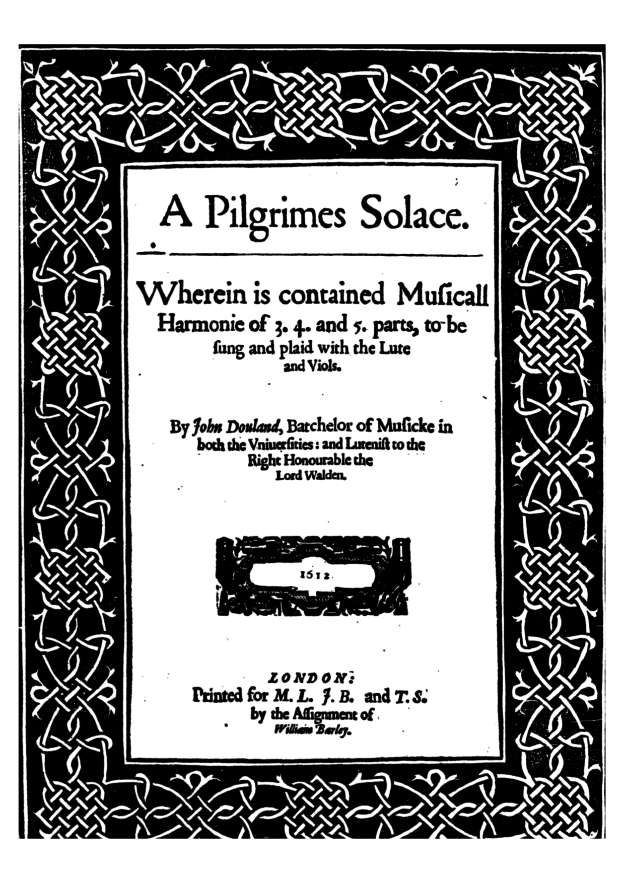 "Tho. Campiani Epigramma de instituto Authoris.
Famam, posteritas quam dedit Orpheo,
Dolandi melius Musica dat sibi,
Fugaces repriments archetypis sonos;
Quas & delitias praebuit auribus,
Ipis conspicuas luminibus facit."
Thomas Campian about John Dowland
("First booke of songs or ayres", 1597)
John Dowland is recognized today as one of the greatest lutenists and songwriters from England, together with Henry Purcell and Benjamin Britten.
Respected from early on as a revered lute master, his fame grew internationally since the publication of the first book of
songes
or
ayres
(1597), followed by the second (1600) and the third ("…
and last booke "
) in 1603, all of them to be reprinted in several occasions.
The importance of John Dowland in the history of music comes from his role in the creation of what would be the called the english lute-song, absorbing elements of popular ballads, courtly dances, consort songs (written for a group of violas da gamba accompanying the voice) and the Italian madrigal.
The innovative design used in his books, to be placed upon a table around which the musicians could gather and read the music from the same pages, influenced every song collection published afterwards.
The main melody written next to the tablature (musical notation for plucked string instruments and others) invites to the soloistic performance of the self-accompanied singer to the lute, following a tradition that goes back to greek mythology in the figure of Orpheus (evoked in Thomas Campian's epigram written above) and to the
cantaredi
of medieval Italy.
Despite his fame in life and to this day, we know little about the birthplace of this "Orpheu Britannicus" (so-called by a contemporary), neither is it certain that he was born in today's Great Britain (one theory argues for Ireland as a possiblity).
The composer was not called to serve in Her Majesty's lands until the very last years of his activity, having spent most of his time as lutenist to noble houses in the continent, mainly traveling as part of king Christian IV of Denmark's retinue. His catholic faith and more or less in-adverted involvement with alleged traitors to the Crown could have contributed to this situation, which he lamented all his life, having several times attempted to secure a position among the Court's musicians, ever unsuccessfully.
Fortunately for us, one last book came to be published in 1612,
A Pilgrimes Solace
, at Dowland's fifty years of age, as he himself states in the preface.
In this last song collection, the dramatic spirit inspired by new tendencies coming from Italy (such as Count Bardi's "Camerata Fiorentina" and composers such as Giulio Caccini, himself a singer-lutenist) and the bold counterpoint towards a direct expression of the
affetti
is more present than ever in Dowland's oeuvre, paving the way to a new generation of
orphei
, british and otherwise, raised in the shadow of the ever grieving master,
semper Dowland, semper dolens.
Ricardo Leitão Pedro
Voice and Lute
Porto, February 2017
ALBRECHT DÜRER: LUTENIST

Music from the age of Humanism
An avid traveler and acquainted with the most renowned artists and humanists of the time, the great artist from Nüremberg was a leading figure in bringing novelties from Italy and the Netherlands, both through his original opus as well as his authoritive writings on measurement and human proportion applied to drawing, engineering and architecture.
Dürer became widely famous as the first artist to use printing and woodcutting as creative output to a great scale. We learn through his personal correspondence and travel journals that Dürer was acquainted with quite a few instrumentalists and an enthusiast admirer of the internationally famous Franco-Flemish composers, as well as very probably an amateur lutenist himself.
Dürer's lifespan corresponds to a transitional period of change in musical tastes in general and lute playing in particular:
Plectrum technique focused on monophony as opposed to or joined with finger technique focused on polyphony; making it particularly interesting to explore as a sonorous landscape, taking the different roles of the lute as point of departure.
In this regard, the present programme includes popular genres and combinations of voices and instruments from late fifteenth-century Germany and the early Italian cinquecento, taken from sources close to Durer's period, homeland and travel destinations.
4–7 Musicians
Direction: Ricardo Leitão Pedro
Voice and Lute
Live recordings: